Welcome to Plat Chat! My name is Ben, I'm a 27-year old living in Los Angeles, CA with my girlfriend, Jane, and my two dogs, Astro and Ace. I was born and raised in Hawaii until 2009 before attending UCLA, where I got my bachelor's and master's degrees in civil engineering. My day job is working at a local water utility, but my other interests are food, music, video games, and fashion.
Fun Facts
I grew up playing several sports but eventually settled on volleyball, and stayed with it throughout high school, playing opposite and libero/DS. My favorite men's players: Erik Shoji, Micah Christenson, Matt Anderson, Clay Stanley, and Micah Ma'a. My favorite women's players: Rachael Adams, Kim Hill, Jordan Larson, and Kanoe Kamana'o.
I'm an avid follower of the NBA. I owe my best NBA experience to an unreasonably early ticket purchase that I desparately held onto: I was in attendance for Kobe Bryant's last game at Staples Center.
The title of this blog is from Overwatch, where I'm currently (and probably always will be) a platinum-ranked tank player. The phrase "Plat Chat" is mainly used in Twitch chat to denote mundane, low-level observation by essentially average people in Overwatch (i.e. other plat-ranked players).
Food
I'm generally not a picky eater, but my least favorite foods are avocado and coconut.
My favorite dish is simple: any kind of fried rice. It's hard to mess up and you can put basically anything in it, though neither of those are meant as a challenge.
I have a huge sweet tooth. No matter how big a meal is, I'll always have dessert if it's available, and so will anyone else in my family.
Music
I used to play the cello and from that, self-taught myself the guitar in middle school. I have a soft spot for the piano too, after listening to my cousin practice and perform for many years.
I've had various phases of music preferences throughout my life: alternative/punk, metal, classic rock, indie, hip hop, and K-pop are all genres that I've grown attached to. I have several dozen CD's in shoe boxes and a very outdated iPod classic full of music that encompasses just about everything.
I prefer to listen to albums in track order when hearing them for the first time. My favorite albums of all time include:

good kid, m.A.A.d city (Kendrick Lamar)
Coloring Book (Chance the Rapper)
Everything in Transit (Jack's Mannequin)
The Incredible True Story (Logic)
The Upsides (The Wonder Years)
Dog Problems (The Format)
2014 Forest Hills Drive (J. Cole)
Paper Walls (Yellowcard)
40 Oz. to Freedom (Sublime)
On the Strength of All Convinced (Daphne Loves Derby)
so many more…

I just reconnected my last.fm to Spotify!
Astro & Ace
Astro is a Boston Terrier/Fox Terrier mix, born in mid-2014.

Astro's name is one of those ideas I've always had and liked for a dog, probably originating from the Jetsons' dog, Astro: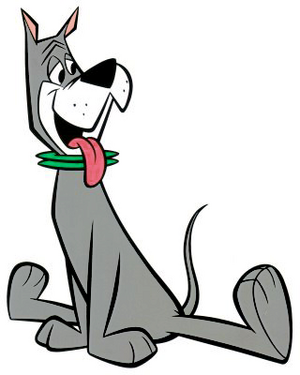 Astro will eat anything; I once took her to the vet for ingesting some marijuana she ate off the sidewalk when I wasn't looking.
Her favorite hobbies include chasing stray cats, taking baths, staring out the window, and boofing.
Ace is a pure-bred Dachshund born in late 2014.

Ace was not a pre-determined name like Astro was, and it took a long time to settle on a name. However, Ace is and always has been a tiny dachshund, bordering on mini-sized. In the end, I liked the thought of Ace as my little ace detective, since she was a little derpy and clumsy at the time, it was funny to imagine.
Ace is scared of anything unfamiliar, including people, while Astro is more friendly. Most people in public will want to pet or approach Ace because of how little she is, but this usually ends in Ace running away to hide and Astro pouncing on the chance to say hello.
Ace is extremely spoiled. She highly dislikes sitting on anything hard, such as the floor, and will always seek something soft to sit on instead. 
Thanks for reading!